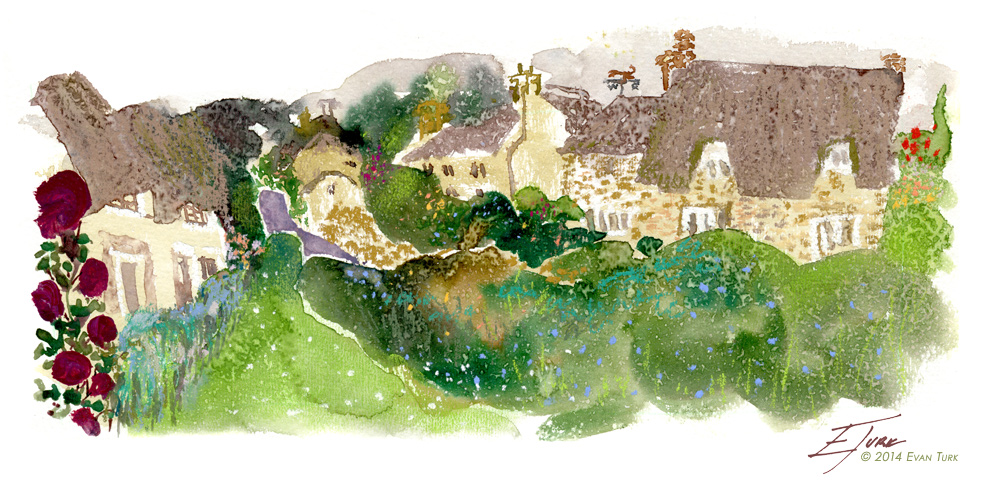 It was a rainy day in New York City today, so I thought I'd post some drawings from some of the rainier days of my trip to England this summer. It rained for about half the trip, and although it impeded some drawing opportunities, I don't think I'd have had it any other way. The countryside just looked so much more English on the rainy days. The painting above is from the village of Ebrington in the Cotswolds, which is possibly one of the quaintest places on the planet. I started the painting during a brief break in the rain, but soon the rain began to pick up. The colors started to blend into one another, and everything took on a soft, squishy look that was much more what the village felt like. The mist dappled the watercolors and made them feel just like the moss that covered every surface.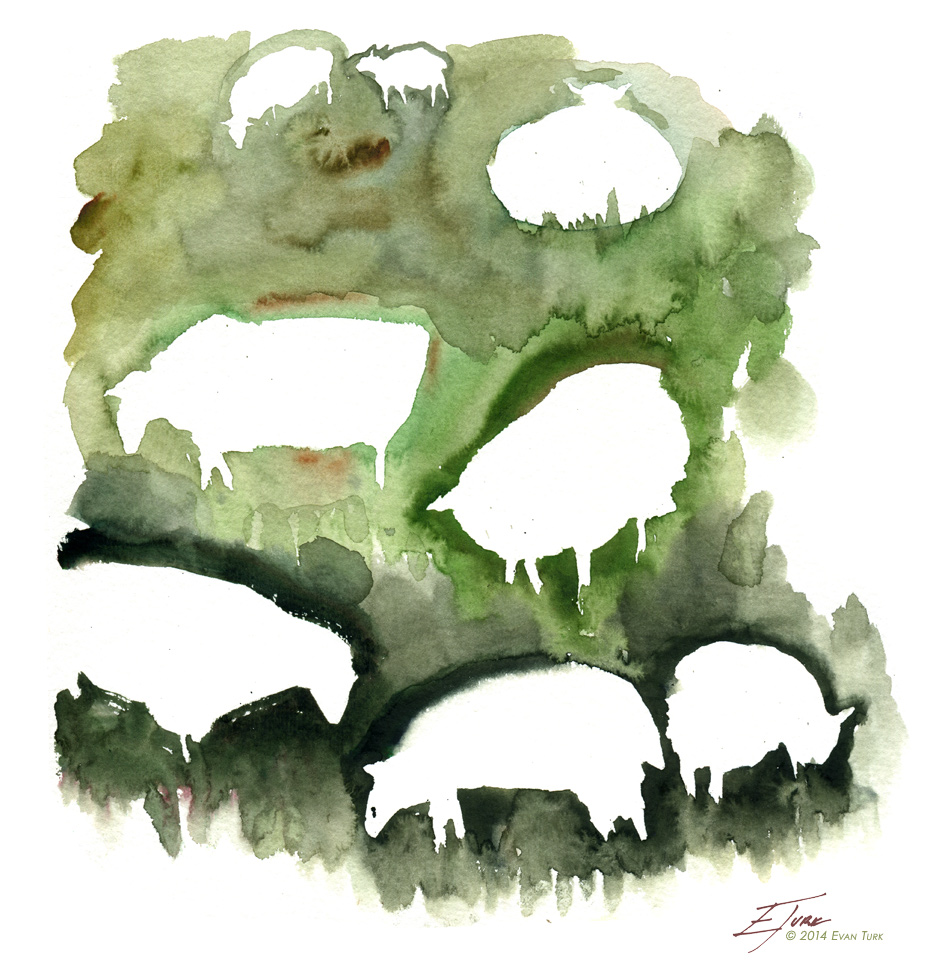 Continuing the soft and squishy trend of the English countryside were the flocks of adorable sheep that dotted the hillsides. I painted these one very rainy morning from our bedroom in a local farm house that overlooked a field covered with sheep.
Sheep are hilarious looking animals, with silly, huggable shapes that seem predestined for nursery rooms and plush toys.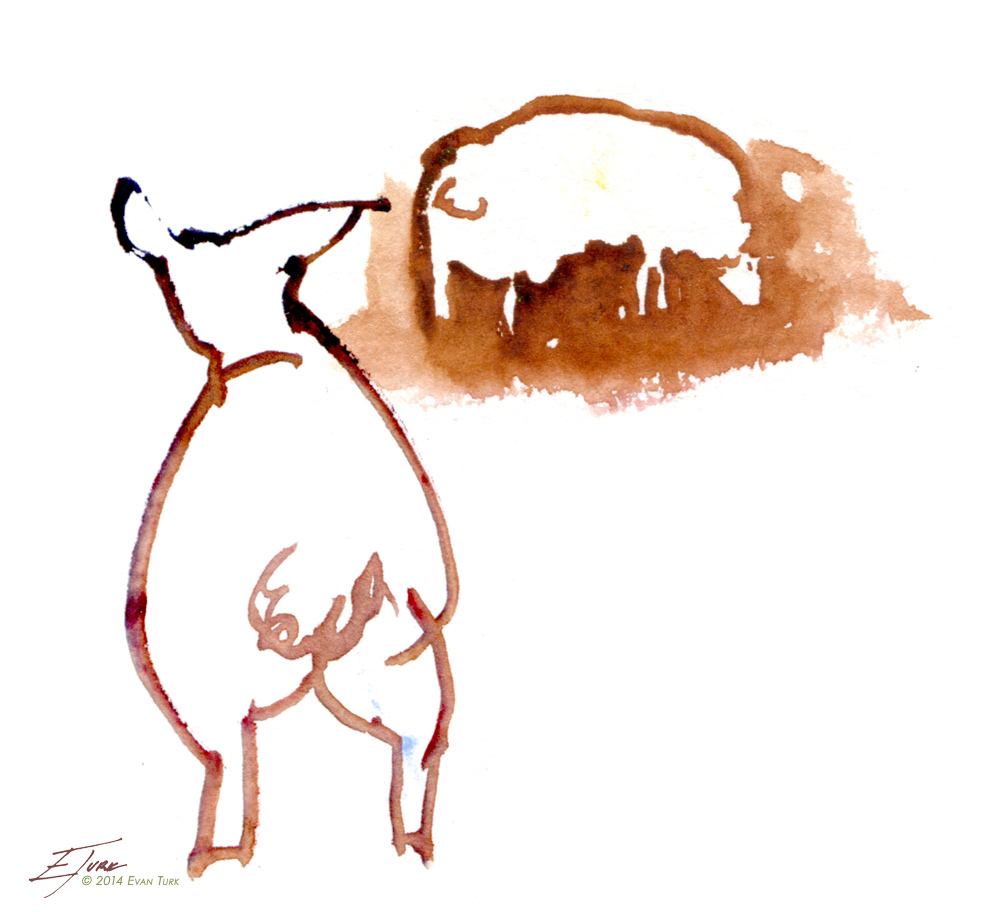 I couldn't get over how cute the lambs were. Often, two of them would run at their mother from a distance and begin suckling on either side with their tiny tails wagging.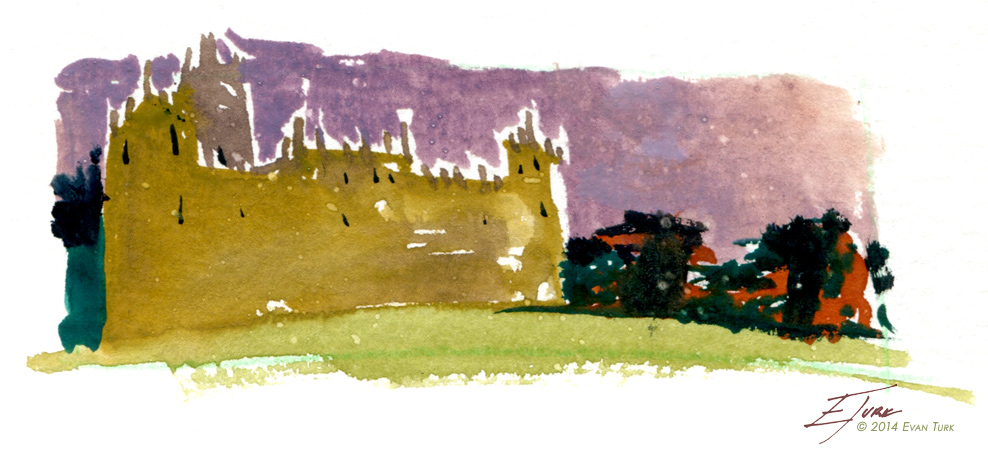 The last rainy painting was from our journey to Highclere Castle, or as it's more commonly known, Downton Abbey. Like all good American tourists, my knowledge of English culture is dictated by a melodramatic soap opera with gorgeous production values! I have to say, TV show aside, the Highclere estate really is incredible. The house is surrounded by lush, rolling hillsides covered with dark forests, scurrying white lambs, and enormous bushes of rhododendrons and azaleas in sunset colors.
For more of Evan Turk's travel illustration, check out the link below: