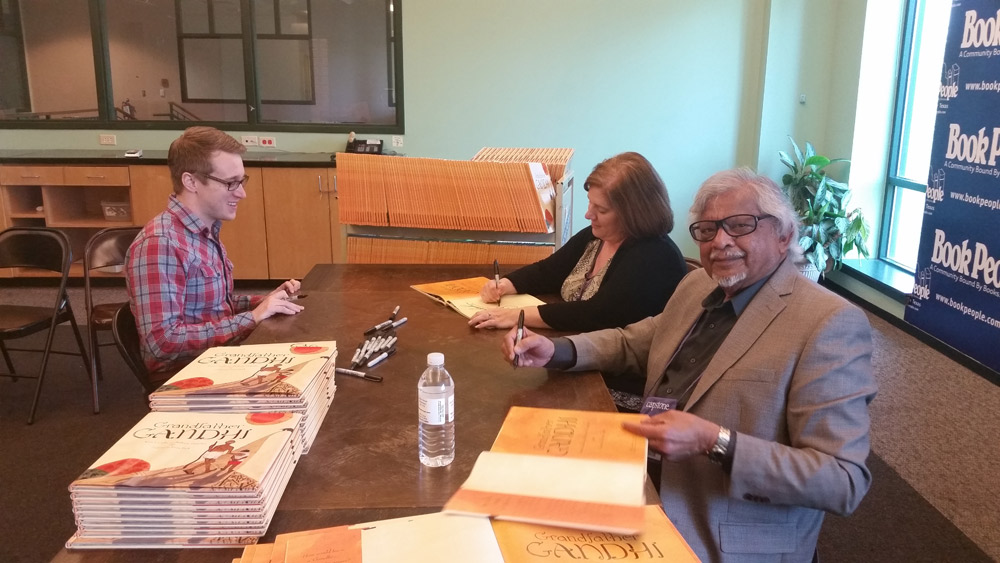 Signing books with Bethany and Arun at Book People, a great independent bookstore in Austin
I just returned from an amazing whirlwind tour of Texas to talk to kids and librarians about Grandfather Gandhi with the authors Bethany Hegedus and Arun Gandhi. The book is on this year's Texas Bluebonnet Award list, which is a great honor, and the people of Texas gave us and the book an amazing welcome!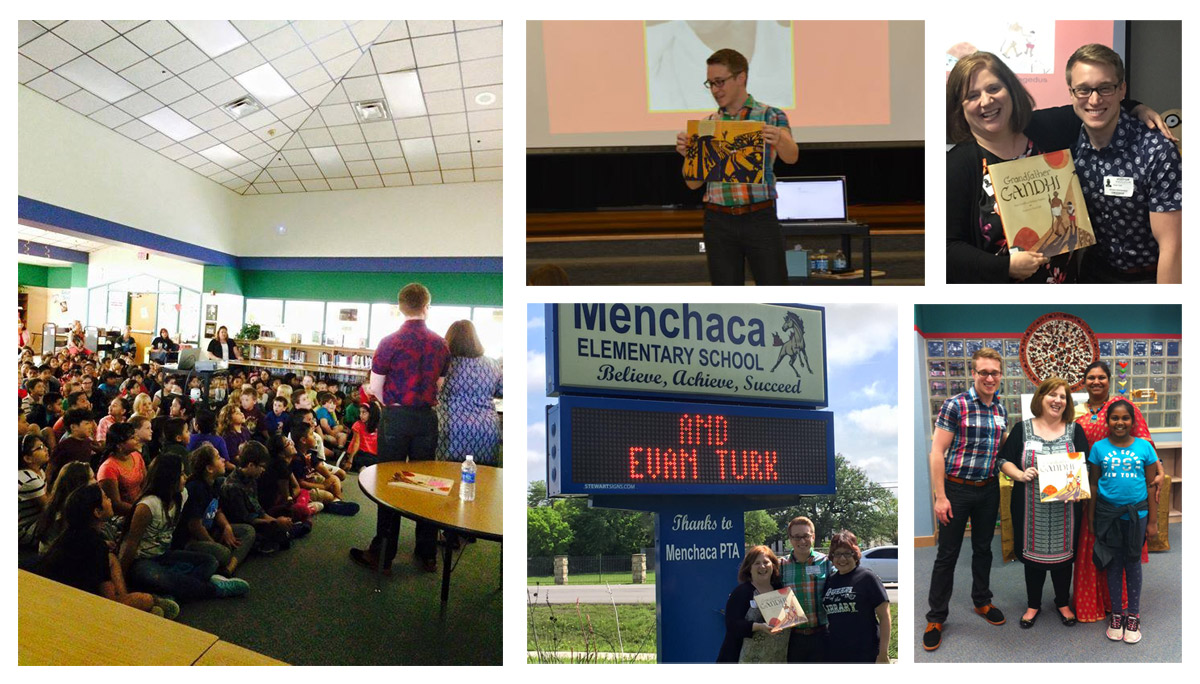 Bethany and I visited ten schools around Dallas, Plano, and Austin and got to talk to
thousands
of kids! It's so wonderful seeing the kids learn about Gandhi, the lessons in the book, and the artwork. We met so many fantastic kids, and amazing librarians, and each school had its own special vibe.
At one school, a mother from India dressed herself and the librarian in sarees, and brought in chai and Indian snacks for us. At another, we were greeted by live snakes, gerbils, lizards, and hermit crabs in the lobby! One school even gave us each a photo of Grandfather Gandhi amongst the bluebonnet flowers, in honor of our nomination. Counselors from another school were using the Live Your Life As Light Pledge as an anti-bullying tool. Some of my favorite things were hearing the kids call the Mahatma "Grandfather Gandhi", feeling that personal connection to him, and also seeing whole groups of kids gasp when they saw the illustration of Arun exploding with anger, ready to throw a rock. So sweet! We were blown away by the work the librarians did to make these days special for the kids.
A huge thank you to Brinker, Menchaca, Gullet, Bill Burden, Coyote Ridge, Indian Creek, Parkway, Lakeland, Forest Vista, and Southridge for having us!
If you are interested in having me come for a school visit, please contact
Carmen Oliver
at
The Booking Biz
to schedule for the next fall and upcoming year! I'd love to come visit your school!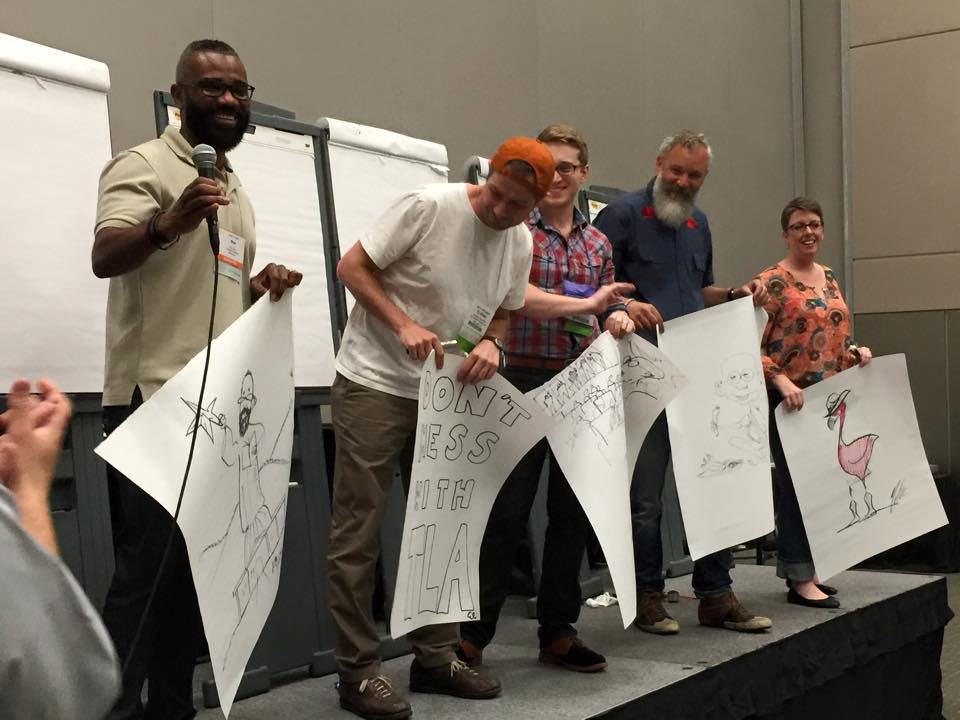 Pictured with fellow competitors Don Tate, Elisha Cooper, John Rocco, and Molly Idle
(not pictured: our intrepid moderator, Jon Scieszka)
After the school visits, it was off to the Texas Library Association Conference (TLA) to talk with even more wonderful Texas librarians! Arun, Bethany, and I were all a part of the TLA Speed Dating event, where we each talked to over 150 librarians in 6 minute bursts! Whew! I also competed in the First Annual Illustrator Sketch-Off and was declared the winner! (Although I'm not sure how official these rankings are). A big thank you as well to Mary Jo Humphreys and the Bluebonnet committee for inviting us to participate!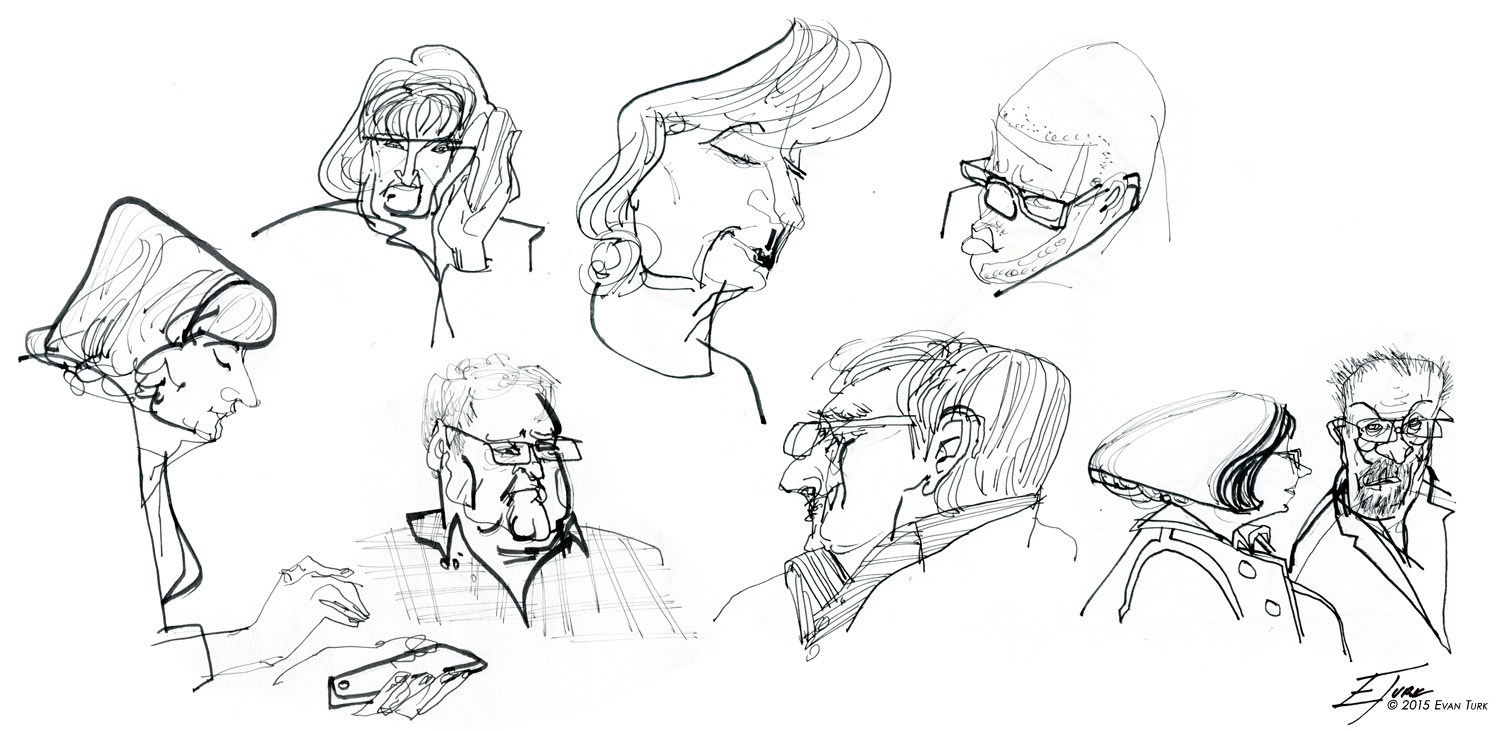 This was my first visit to Texas, so I was excited to have my first helpings of fried pickles and the infamous breakfast tacos, as well as get a little time to draw some Texas personalities!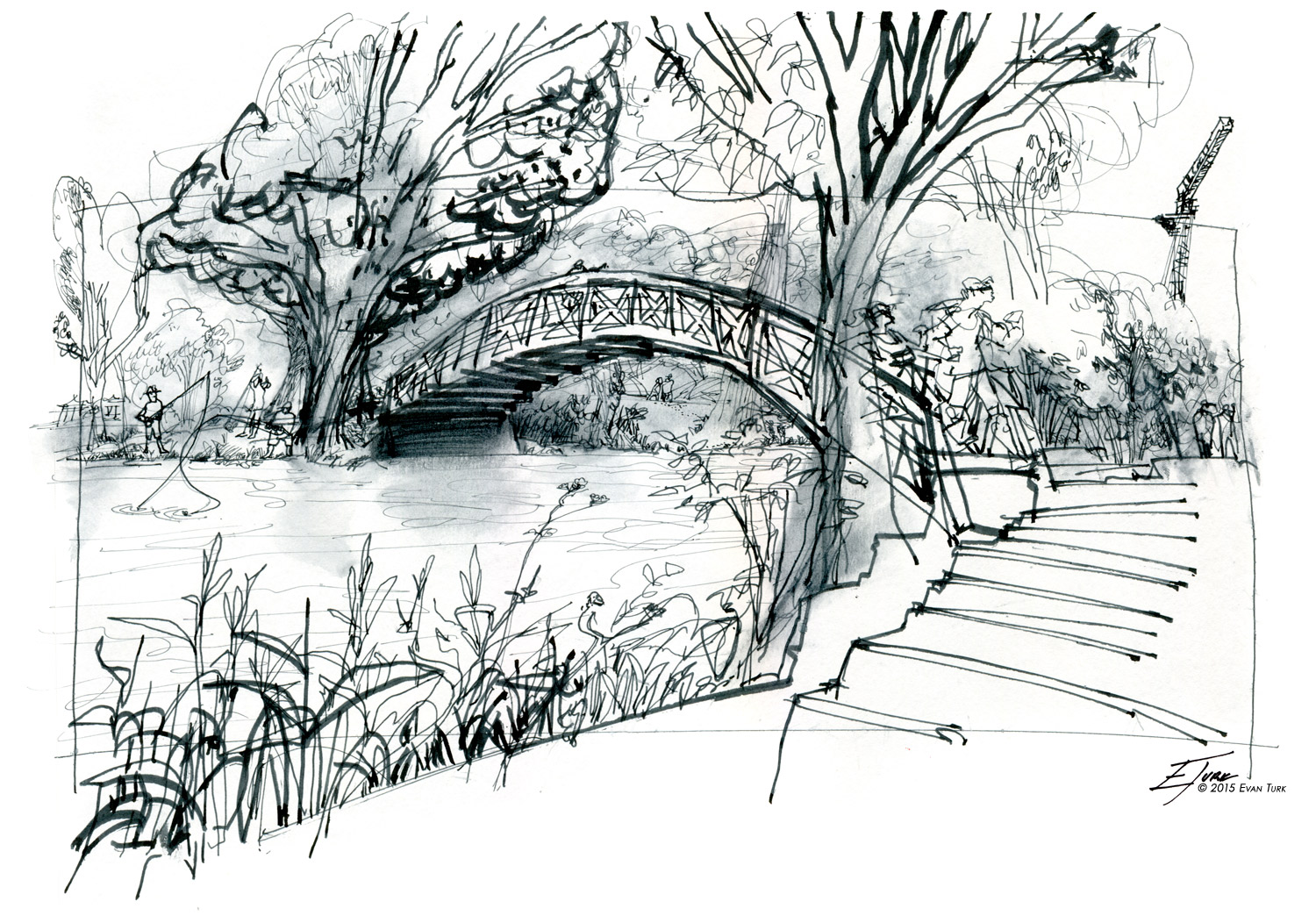 Once we got back to Austin after the flurry of school visits, I squeezed in a little time to explore the city and do a little drawing. There is a beautiful river with a hiking/biking trail at trees all along it in the center of the city. Nature, fitness fanatics, and new construction everywhere!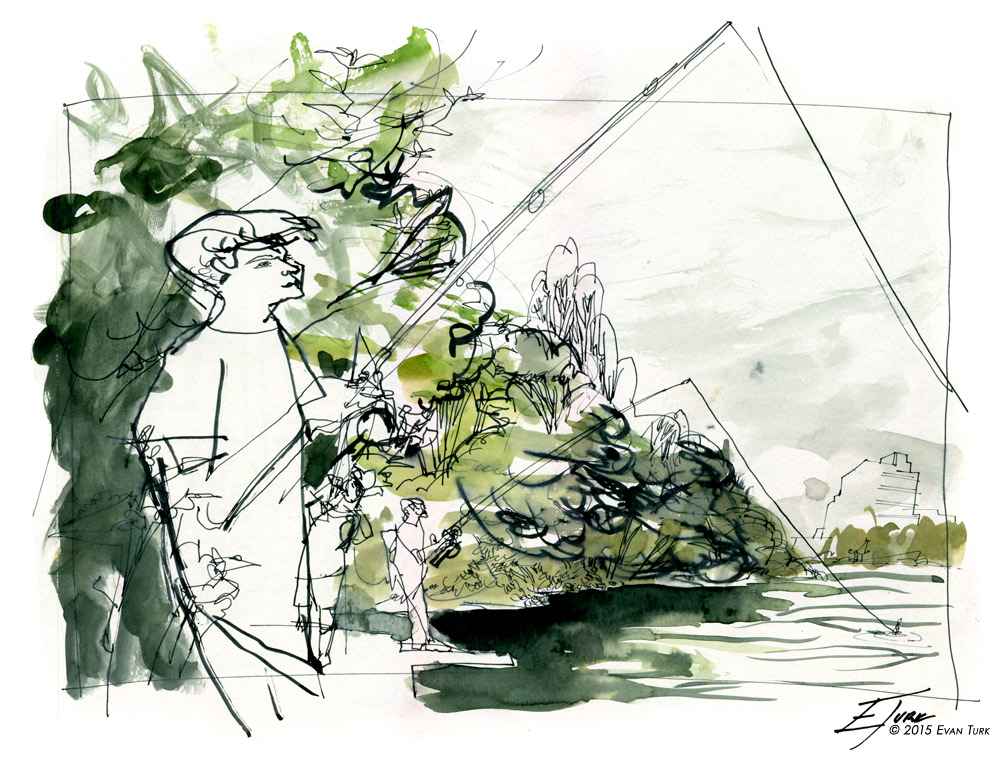 I got a sneak preview of what it's like to have trees with leaves again (New York is still a little behind...) as I watched some kids fishing in the river. It felt very rural and relaxing in the middle of a city, like a scene out of Huck Finn.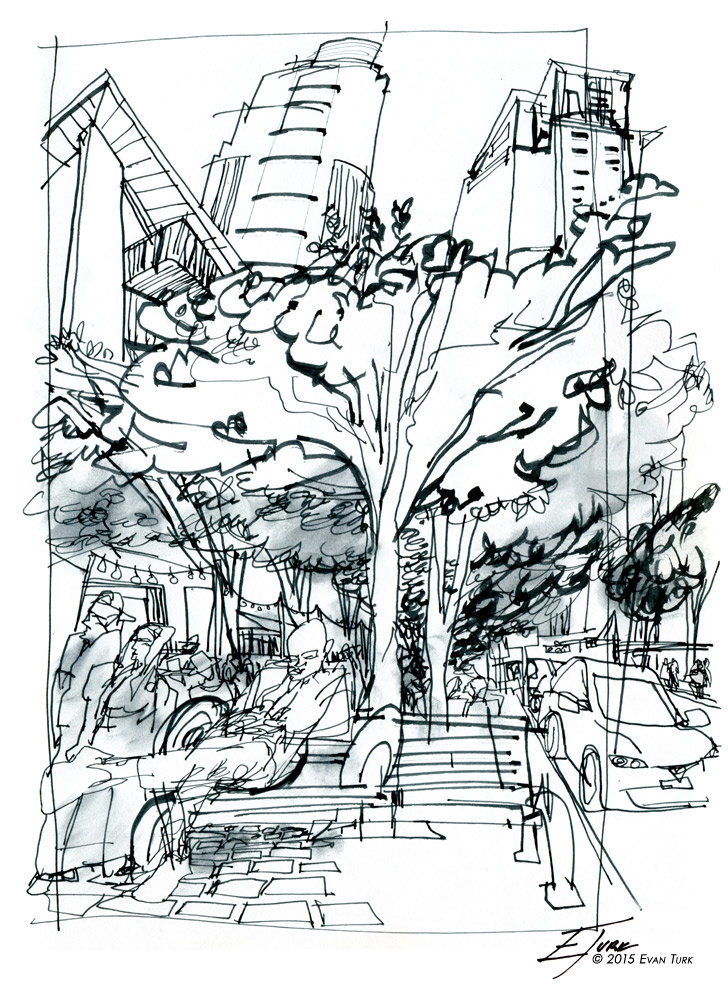 As I left the river, I strolled around the city, trying to settle into the slow groove of it.

Austin is also famous for its plentiful food trucks. I had a delicious sandwich with local friends at "Hey!...You Gonna Eat or What?" (ironically a New York transplant) and drew the happy customers hiding out from the rain and snarfing down the eccentric cuisine.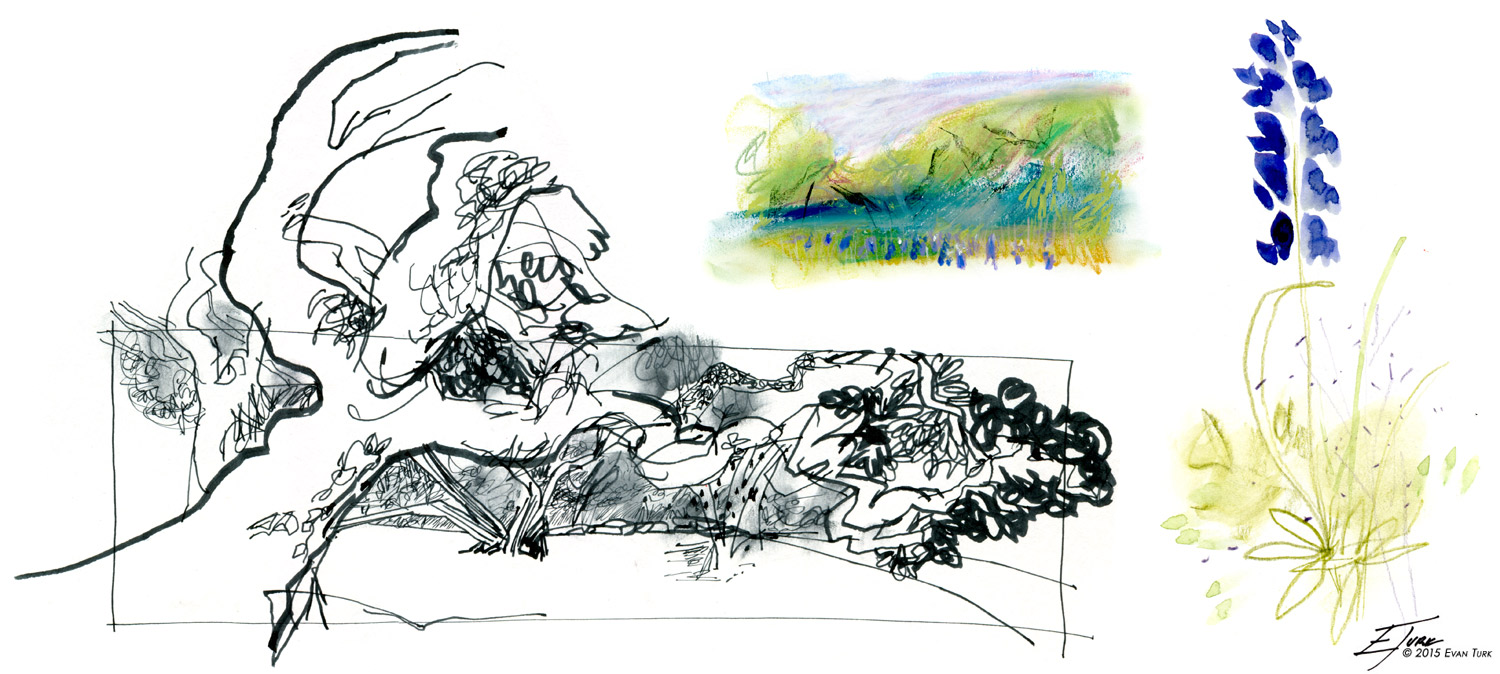 I was fortunate enough to stay at Bethany's writing retreat
The Writing Barn
and was able to relax and unwind on the beautiful acres of their property. I had to draw the gorgeous bluebonnets in the fields underneath the sprawling live oaks.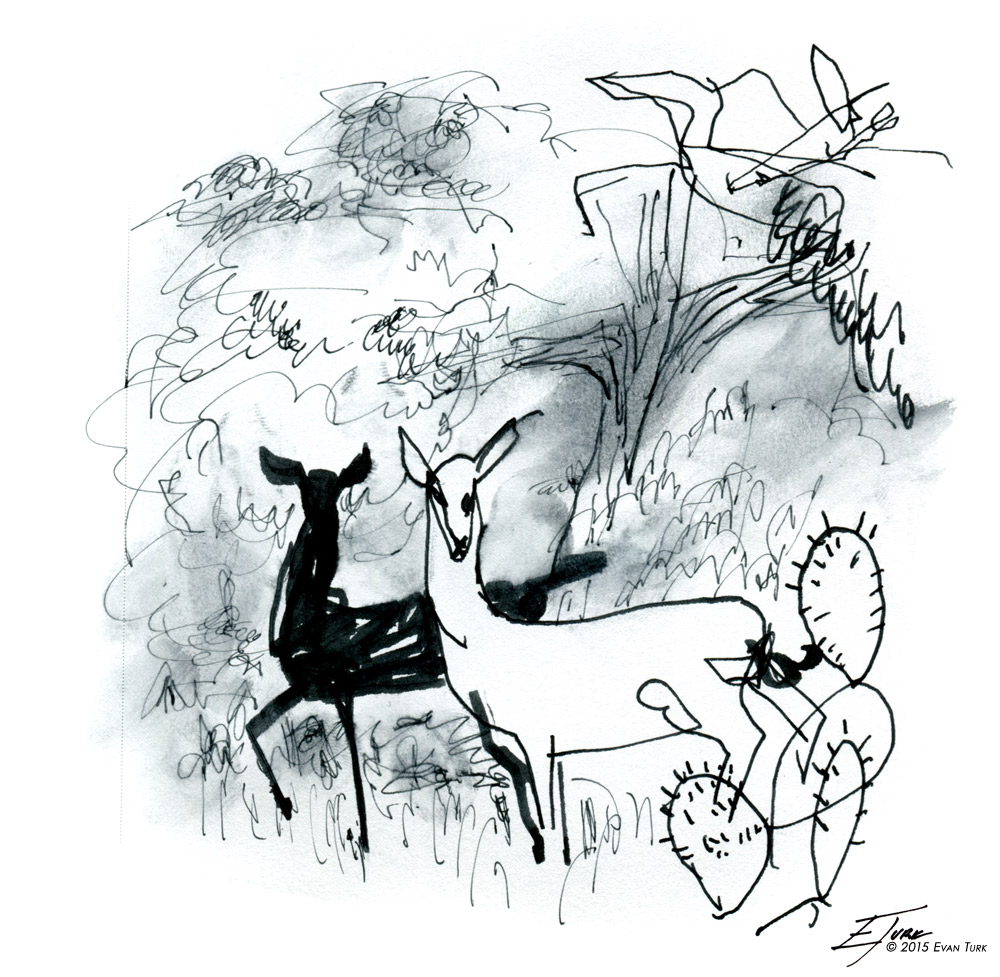 As I drew one evening, a small group of visitors came poking around the vegetation, trying to decide if I was threatening or not.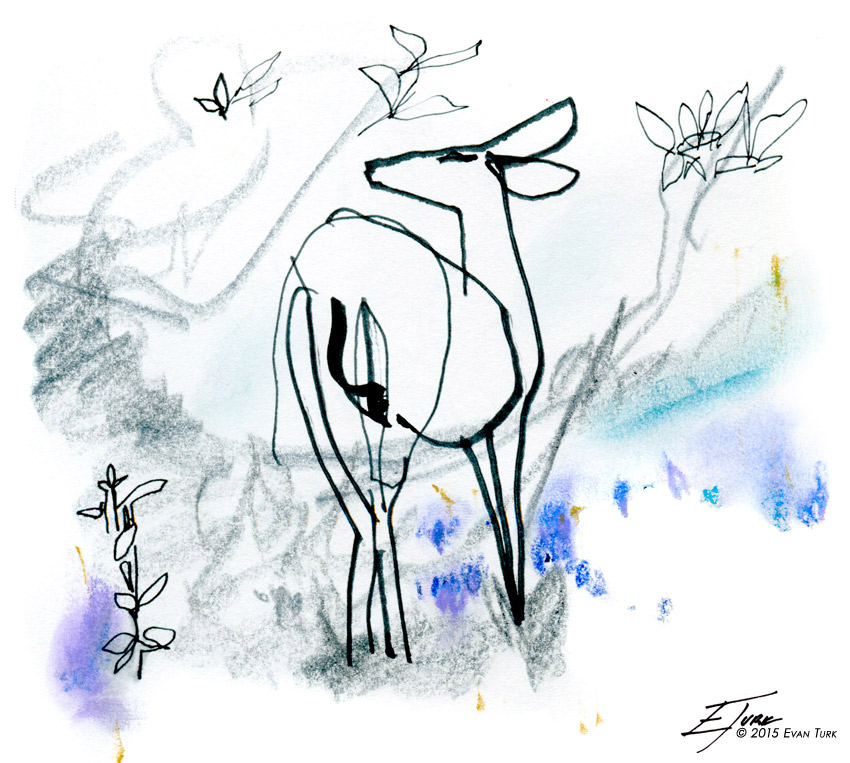 I had just enough time to draw this doe amongst the bluebonnets before she faded away into the dense thicket of branches.