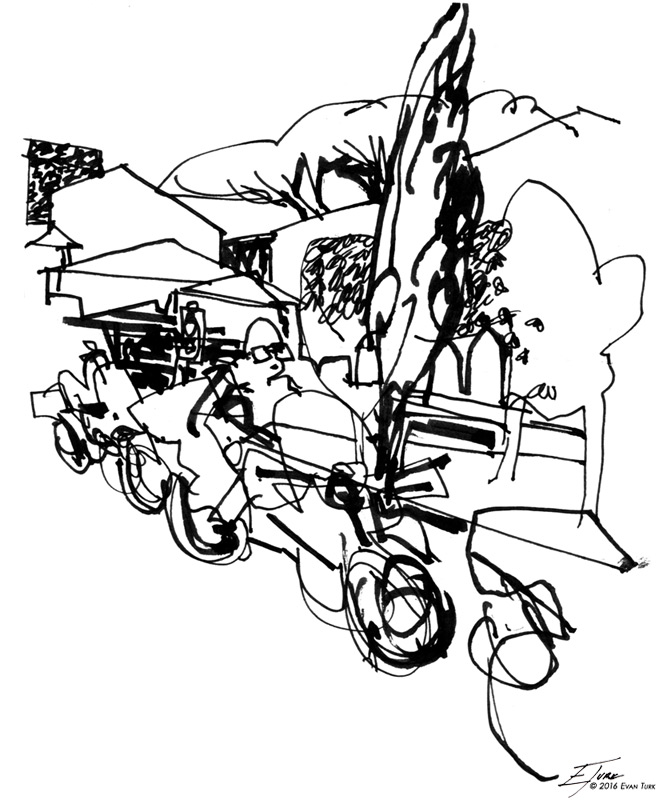 I just got back from a three week trip to Italy and am slowly adjusting to real life. What an amazing country with so much beauty packed into such a small place! We were surprised by how much we liked Rome, and were a little disappointed we had only booked two and a half days there. Hopefully we will be back! For an imperial city, it feels unexpectedly inviting. The Tiber River carves an elegant path crossed by grand bridges, and many of the ancient buildings are draped with jasmine that perfumes the whole city.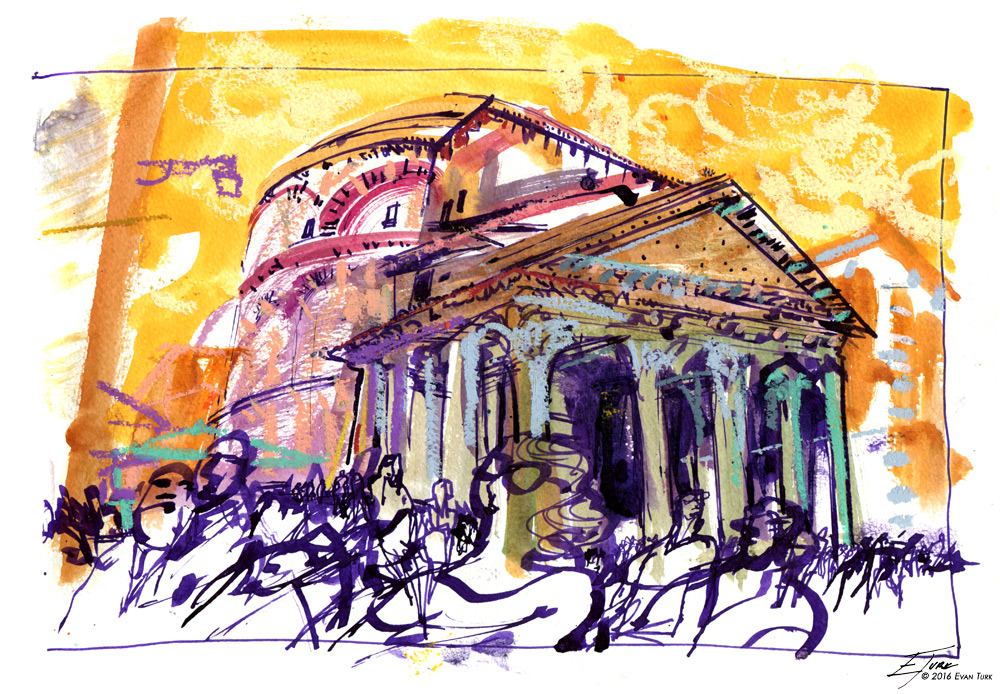 We sort of just wandered from place to place, admiring every street, statue, and piece of architecture, and smelling every flower. Not a bad way to spend a couple of days! We drew in the piazza near the Pantheon (above) as we were serenaded by a street performer singing opera.
Then we wandered to the Piazza Navona and admired Bernini's Fontana dei Quattro Fiumi or Fountain of the Four Rivers. The allegorical figures represent the four continents and their prominent. rivers: Africa's Nile, Europe's Danube, Asia's Ganges, and the Americas'
Río de la Plata. This drawing is of the Ganges on the left, holding an oar representing its navigability, and the Nile on the right, with his head draped to show that people did not know the source of the river at that time.

We also visited the Castel Sant'Angelo which was a wonderful surprise. Between its construction in 134 AD and 1900, it served as a mausoleum, fortress, Papal residence, and a prison. This mishmash of uses created a very unique structure with layers and layers of history. It also has amazing views of the Tiber River and the whole city.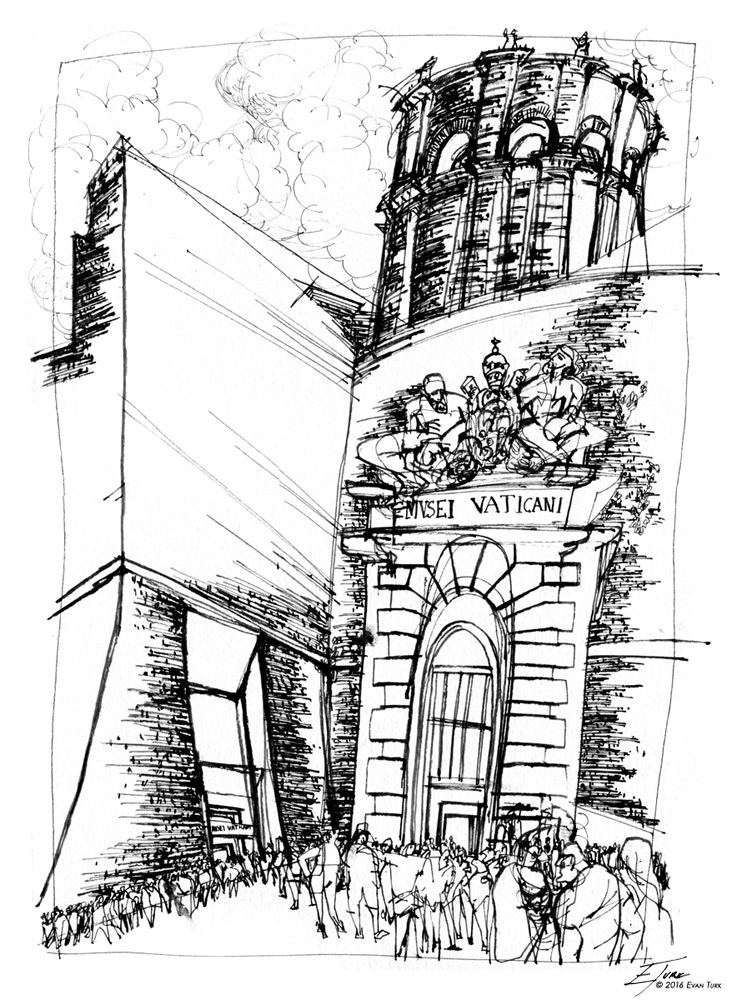 No visit to Rome would be complete without a stop at the Vatican and St. Peter's. I had gone to the Vatican Museum when I was a kid, and really only remembered the Sistine Chapel. Nothing could have prepared me for the exhaustion of the rest of the museum. You are moved in hordes through beautiful room after beautiful room as they slowly lessen the air conditioning to thin the herd before arriving at the Chapel. The ceiling is incredible and well worth it, but by that point you really need a nap.

After the Vatican, we went to St. Peter's Basilica, and its impressive, expansive plaza. Inside, the cathedral is wall to wall heavy stone, mosaic, and gilt. It is beautiful, but in an oppressive, heavy-handed way. (Also, they don't let you lean or sit against anything to draw...)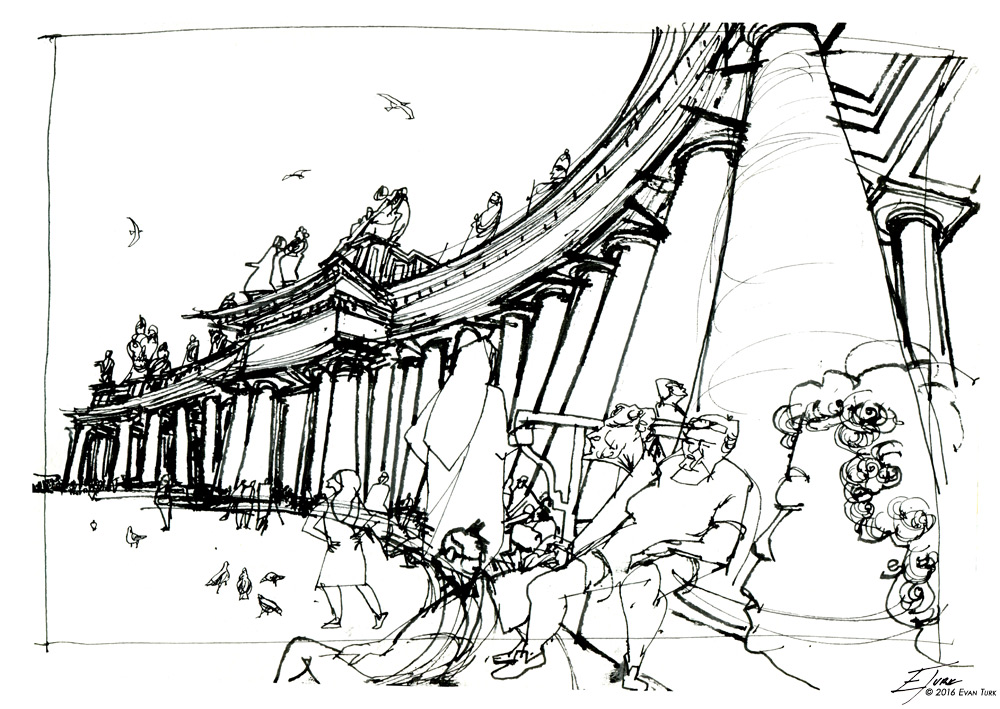 Outside, in the much airier, but equally overwhelming plaza, crowds of tourists exhausted after the Vatican Museum slumped against the endless colonnade.
What a beautiful city; I can't wait to return! But this time, it was on to Tuscany...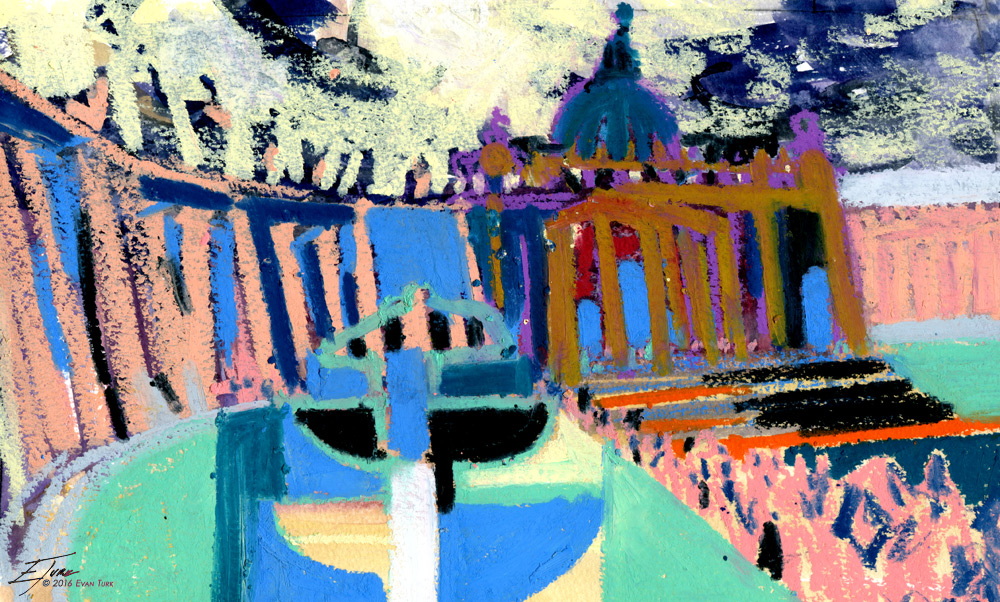 This post is part of a series of travel illustration from a three week tour of Italy. For more of Evan Turk's travel illustration, check out the link below: